Welcome to The Myrtle Beach Pinball Museum!
Looking for fun things to do in Myrtle Beach, SC. Pinball and Retro lovers this one is for you! The Best Arcade in Myrtle Beach!
Take a totally awesome journey back to the 1980s and 90's, share the games of your youth with your kids or reconnect with friends.  This is a unique museum where you can actually play pinball games from the '70s to the present day. If you're on a budget and looking for Myrtle Beach arcades and affordable fun things to do, this is nostalgic must see! Located close to the Myrtle Beach Convention Center and only 4 blocks from the ocean. This top-ranked attraction is currently one of the top things to do in Myrtle Beach, SC on TripAdvisor!
At This Myrtle Beach Museum…You Get To Play The Arcade Games You Grew Up With and Learn History!
Top Things to Do in Myrtle Beach SC
Discover one of the top things to do in Myrtle Beach SC. This museum was voted the best arcade in Myrtle Beach, SC featuring 25+ fun retro pinball machines.
If you want to know what to do while you're on vacation this year, you need to put this on your list! Out of all of the things to do in Myrtle Beach, visitors, local experts, Tripadvisor fans and even Facebook fans say this is a "must-do" attraction while in town. There is plenty of fun in store for you so you can make the most out of your vacation.
100% Best Thing To Do In Myrtle Beach!
How it works:

Admission $12 per hour, per person.

Advance reservations for entry because we will have limited capacity. (Buy Tickets below)

Once you buy the admission by clicking the button below and are inside, All Games are set on "Free Play", no quarter's needed, you can play without coins or tokens.

THIS WEEKS HOURS – OPEN  Saturday and Sunday 1-4 PM

Thursday, Nov 26 (Thanksgiving): CLOSED
Friday, Nov 27 CLOSED
Saturday, Nov 28 CLOSED
 
This Weeks Hours of Operation:
CLICK THE BUY TICKETS BUTTON FOR HOURS THIS WEEK
– OPEN Saturday, 1-4 pm
– OPEN Sunday, 1-4 pm
Thursday, Nov 26 (Thanksgiving): CLOSED
Friday, Nov 27 CLOSED
Saturday, Nov 28 CLOSED
 
Hours and days will change with the season! 
This website has the most current, accurate and up to date info for current hours and days open. During the off-season, there are fewer days and hours open, as compared to the June through August prime time tourist season.

Thanks for your support!

See you soon!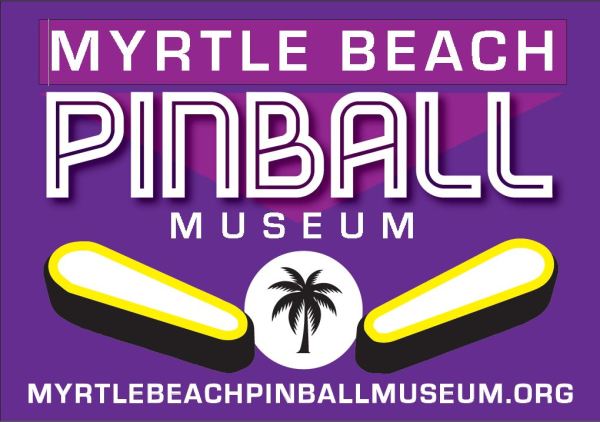 If you are looking for arcades in Myrtle Beach, this museum features one of the largest collections of pinball machines open for public in the state of South Carolina. More than two dozen machines are on hand to view and play. Pinball is a national treasure of American engineering, art, history, and design. Our mission is to share and preserve this important part of our pop culture and Americana. This is the best place to pretend its 1986 again!
The Myrtle Beach Pinball Museum is the place to bring people together to create memories, celebrate friendships and share laughs.
Myrtle Beach Museum Location:
607 N 27th Ave, Myrtle Beach, South Carolina 29577
Phone: 843-282-9018
Looking for a unique event venue in Myrtle Beach? The Myrtle Beach Pinball Museum is also available to book a party as well. This event space is great for birthday parties, company events, bachelor parties and more.
We THANK YOU and Truly Appreciate all of your Support and Words of Encouragement,  SEE YOU SOON!
607 N. 27th Ave Myrtle Beach, SC 29577